Auction!!!
What: 3 Tracts, Tract 1 - 22± Acres
Tract 2 - 4± Acres
Tract 3 - 124± Acres
When: Friday, October 20, 2017, 11am
Where: Auction will be held at the Chambers County Courthouse entrance. 2 Lafayette St S, LaFayette, AL 36862
The Property is located at the intersection of County Road 87 & 488.
Maps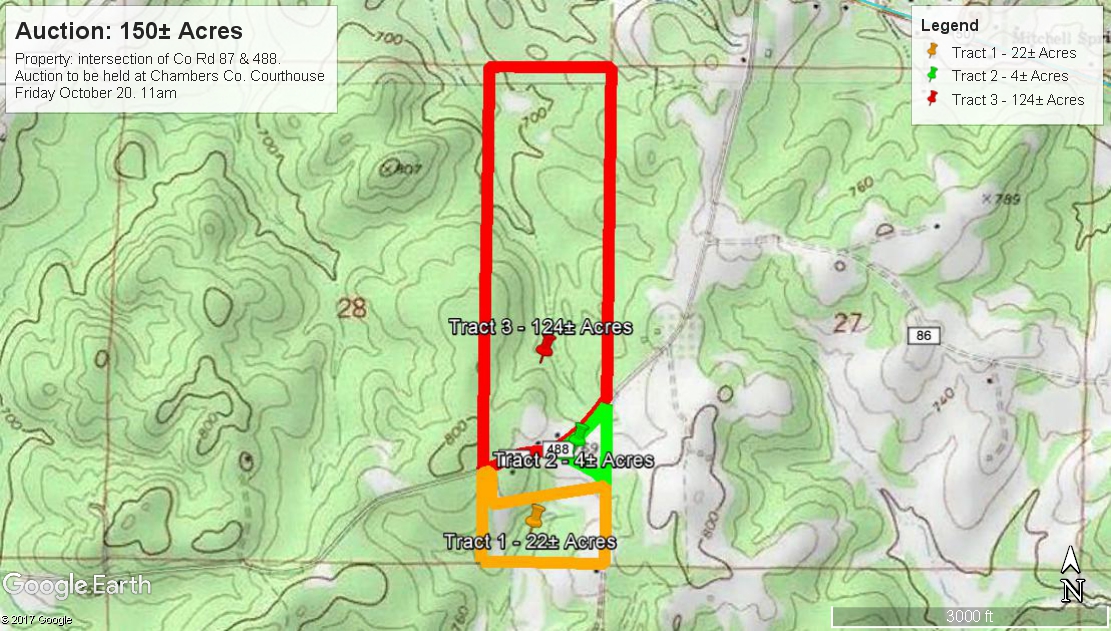 Pictures:
Tract 1
Tract 2
Tract 3
For more information on the above properties, contact
Jeff Hall: 256-276-6502
Auctioneer John Hall 334-534-0525
Alabama License # 1874
Georgia License # AUNR002846
Terms and Conditions: A 10% deposit of the total purchase price for real estate auctions will be required auction day with the balance due on or before 30 days. Southeastern Realty & Auction Co. reserves the right to retract any property prior to auction. Disclaimer & Absence of Warranties: Information contained herein believed to be accurate but not guaranteed by Southeastern Realty & Auction Company, Inc. In all transactions, the Auctioneers are acting as agents for the seller only. Property will be sold "As is" "Where Is" with no guarantees, expressed or implied by Southeastern Realty & Auction Co., Inc. All decisions of the auctioneer are final. Announcements made on the auction day take precedence over all printed materials. A 10% buyers premium will be added.